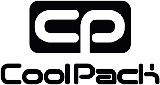 Backpack Coolpack Coolpack Abby Coral Touch 23391CP
Trendy Coolpack backpack from the Abby series, combines functionality and style. A spacious main compartment will accommodate all necessary items.
Backpacks have become not only a tourist equipment, or a transporter of school books. Do you want to express yourself? You can do it with Coolpack backpacks from the latest Abby series.
These backpacks are characterized by fashionable stitching and a simple functional form. Expressive and electrifying colors will make you feel special. Made of high-quality materials will be with you for many seasons
the main compartment and zippered pocket will protect your stuff and make packing easier;
padded back and shoulder straps ensure comfort of use;
100% made of polyester, which is durable and easy to clean.
COOLPACK is a brand creating, among others backpacks, bags and suitcases whose main recipients are young and active people. They are most often chosen by children and teenagers because they are valued for their durability by their parents. The CP logo on a school backpack is a guarantee of the highest quality and functionality. A characteristic feature of the products is the multitude of designs, colors and models. If you prefer subdued colors, backpacks are available in darker shades or with a subtle motif. However, if you like to stand out from the crowd with vibrant colors, dynamic multicolored backpacks, in polka dots, checkered, also in bright colors are available. A wide range of designs allows you to hit the tastes of everyone who wants to be trendy and on top.